Take Me Out To The Ballgame 
I really enjoy baseball―it's been "berry, berry good to me" (credit the infamous SNL's Garrett Morris routine). Some non-followers (in my very own family, no less) compare viewing a game on TV to watching paint dry. Oh, how unobservant they are. Seeing the athleticism, strategy and excitement of a close game is lots of fun, especially if you're a student of the sport. It used to be America's Pastime, but I think football and basketball have eclipsed it as the go-to sport of our country. Oh well, their loss. 
Anyway, the downside of watching a game on TV is listening to the sportscasters endlessly spouting the most obscure statistics, which mostly distract the viewer and take away from the excitement. You know, they insist on telling you the pitch speed, hit velocity, home run distance, life-time strikeout percentage against this opponent, etc. Who cares? Just let me watch the game.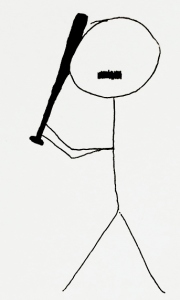 For instance, here's a recent exchange: "Hey, Tom, did you know that Bumbling Billy is sixth on the all-time list for having the most grass stains per inch on his uniform?" 
Or this: "Well, Curley, Hammering Hal is one plate appearance away from having the undisputed National League record for players with unmatched socks facing a left-handed pitcher on a Thursday night in July (with the threat of rain)." 
Then there's this: "Gee, did you know that Stinkball Steve is the only pitcher who can bounce a ball off his left calf and still have it go over the plate as a called strike? We've seen him do it many times. Now that's what I call talent." 
And here's my favorite: "Wow, Skip, did you see that? It's the 27th time a batter has ever been hit by a pitch on his left quadricep, while wearing a cup two sizes too big, with a mild breeze going out into left field." 
Really? Like I said, who cares! 
Of course, the easy remedy for me would be to turn down the sound and just watch the action. But then again, I might miss an important tidbit from one of the announcers telling me that Leadglove Lenny is on deck with his fly open, sporting a new haircut and having no grass stains on his uniform. 
Still gotta love this game, though.